It's a fantastic expression of self-care when you take your financial wellbeing to heart and work to improve your situation! You will become a knowledgeable, go-to professional faster than you might think.
With the right strategies and knowledge, your dreams of Financial Freedom are within your grasp, you have but to reach out and pick them up!
But, to achieve your sporty, exciting, future life, you will need to start making the right investments for higher interest and returns on your money.
4 Phenomenal Strategies To Make 10% Interest On Your Money Are:
Entrepreneurship

Real Estate

Trading Gold and The Dow (Gold Ratios)

High Growth Stocks
Entrepreneurship
Have you dreamed of escaping the dredge of the 9-5, the constant need to coerce yourself to go to work for your paycheck? Just to give a ton of it away in taxes? Then, in the end, you end up making someone else money from all your effort?
This is an all too common reality in our world. You may be a part of this right now but there are options available to you to escape the 9-5 and make your life extraordinary! You want the 10% interest or return on your money but why not put in some effort to make that happen?
You don't need to quit your job or even cut back your hours. You will however need to put in some effort to get the ball rolling in the direction you wish to pursue.
Think for a moment how typical investments work for most of us. You go to work, earn your wage, and come home with a portion of what you earned after paying taxes and other expenses.
If you end up investing a portion of what's left in stocks you are actually buying OWNERSHIP in a company. You OWN part of it! But with potentially millions of shares, you will own a very small portion of that business.
What if you started your own? The idea sounds scarier than reality. You can Start, Run, Grow, Market and of course Profit from a business right from your couch. Thousands of people are doing it and it's a huge industry!
Almost 4.66 billion people were active internet users as of October 2020, encompassing 59 percent of the global population.
Via, Statista
With so many people online it makes sense why people would start an online business. You will be instantly exposing your business to millions of people.
Entrepreneur Returns
For most businesses receiving a 15% return on investment should be the bare minimum. This means if you invest $100,000 into building a business by year 3 (businesses take time to grow) you should be striving to receive at least $15,000 per year from the overhead investment.
Starting a business isn't without risk. You may not have the explosive start-up you think or unexpected challenges may arise. By giving yourself the most advantages you can you will be able to maximize your potential to earn and lower some of your risks.
A business takes time to get going, even if it's just in your spare time building a Zazzle Store (Print On Demand) and selling easy to design products. Then with some exposure from a bit of marketing, you can be sitting-easy on your couch making money while you watch the latest show on Netflix!
Get the Zazzle Print on Demand Course right now and you'll have products ready to sell in as fast as an hour!
Even though you should be striving to get at least a 15% return on your investment in your business, your time is always valuable too. You will be spending time making products, marketing, and communicating with customers. This needs to be compensated for as well. With the average wage being $50,000 in the US for full-time work, you should expect to be making that on top of your investment returns.
Now, if you are doing this as a side job you may not be putting in 40 hours or more a week growing your business and your expectation of return on time needs to be adjusted. But, you can still make money for your time invested.
Imagine being your own boss and making the rules, getting paid, and making higher than average returns on your money. It's entirely possible and a simple blog setup with Bluehost can get you started.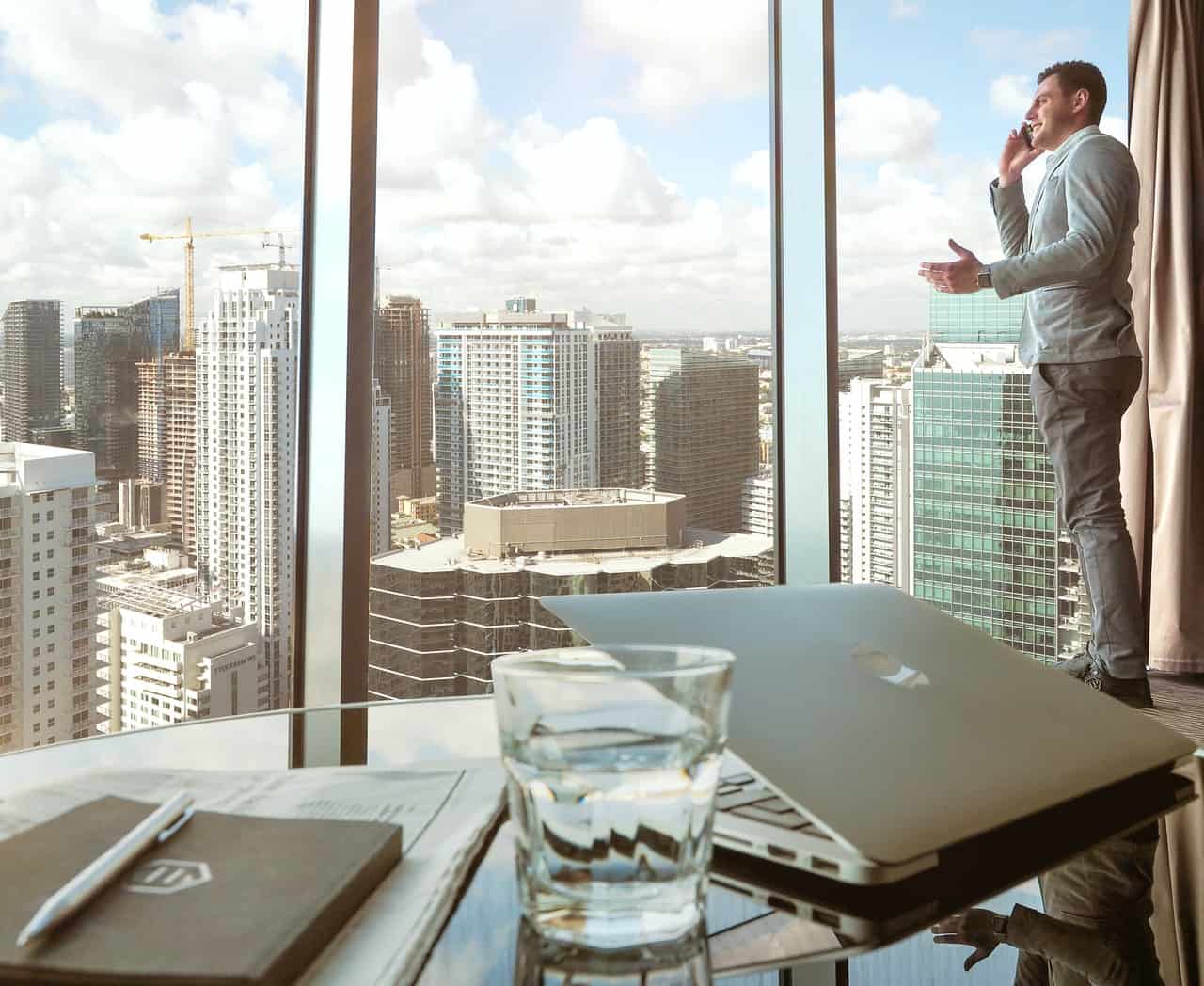 You get your name and website, design the sight with help from templates, and start writing. Pick something you enjoy and people want to read about. A few ads here and there and you can be making money in the background while you go to your 9-5!
Think about your job right now, you go and help the business make money. As a result, you end up getting a wage. Now, the business has made an investment in you. They spent money training you, mentoring, and supplying you with the necessary tools to effectively do your job.
The return on their investment is you work for them and they make money off of your work. But if you are the owner of the business you are making money off the investment you make into your employees and your business.
The more your business grows the more money you can be making.
Growing a business can be difficult but there is unlimited potential for making money! You have more potential to make BIG returns on investing in yourself than waiting on the S&P to provide you with its 8% return.
You don't have to start your own business and still become rich working for someone else!
Real Estate
Real Estate has always been a "go-to" investment for people like you looking to make higher than average returns. With the right property, you can be making significantly more than 10% interest on your money!
Real Estate comes in many forms from single-family homes, industrial, offices, land, apartments, multi-family homes, and everything in-between. You will need to have some initial money saved up to make income properties a part of your portfolio but the returns can be amazing!
Part of the allure to buying Real Estate is you can use OPM (Other People's Money) to help pay for your investment. This is usually a bank or money lender but can sometimes be joint ventures or private equity.
By taking advantage of other people's money to buy an asset that generates income, you can "increase" your investment to returns that far exceed what the typical investor is hoping to achieve. But of course, there is more risk involved when you borrow money for investments, even Real Estate.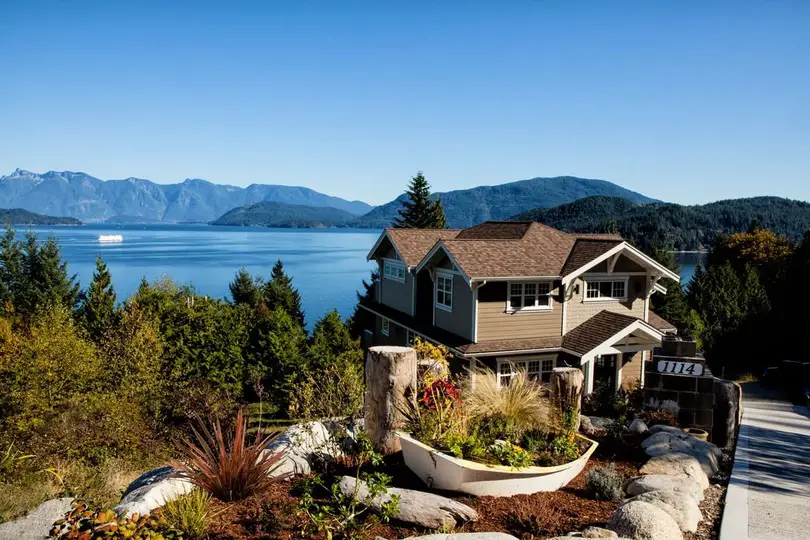 Potential Real Estate Returns
Imagine you are in the market for a nice duplex. Something unique that will offer a great way to dip your toes into the vast exciting world of Real Estate.
You save up some money or borrow from some of your current investments to form a nice down payment which will need to be at least 20% for an income property.
This may sound like a huge feat but you can save up some income and use it for higher than average returns.
Steadily you search for the perfect property in a nice neighborhood, not run down or in poor condition. With any luck, the property will already have tenants living there to provide you with more of a "turn-key" operation.
Purchase and go!
There it is! You locate the perfect property! Now for financing.
Off to the local bank, you go and you can get a great rate! If the duplex was going to be purchased for $300,000 you would need a down payment of at least $60,000 (20%) plus fees. $100,000, you would need $20,000, etc.
For your returns, you will be relying on your tenants to pay you to rent every month. This is great because it covers your mortgage payments, repairs, and still leaves you with some profit at the end of the month when prices accordingly.
Imagine if you were making $400 profit per unit. (The "$300,000" duplex has 2 units)
That's $800 a month in profit from an investment of $60,000, BUT it doesn't stop there! You will also be accruing equity on that property from your tenants paying down the mortgage. So, if you have $200 a month in equity and $800 a month profit you would be totaling $1,000 a month for a $60,000 investment.
A $1,000 a month profit would be $12,000 a year which is a 20% return on your investment! Not only will you be making a 20% return on your investment in this scenario you will also be able to take advantage of depreciation.
Depreciation is a tax deduction for wear and tear or life expectancy of assets. This will allow you to "write off" income and pay significantly less tax on your property.
High return AND Lowering your Tax Burden! It's no wonder people love Real Estate!
Trading Gold and The Dow (Gold Ratios)
For most people, a vast majority of investments are made into indices that track either specific areas of the economy or the "whole" economy such as the S&P500 or the DOW. This has been one of the safest ways to invest your money for decades.
But there are more assets than just stocks and bonds. Gold has always been a strong investment even though many people don't take advantage of it.
Gold has been a big part of portfolio allocation for longer than the stock market has existed! After all, Gold used to be the currency until the governments created the fiat currency we have today.
The problem with having a fiat currency is that you need to have inflation to keep the economy going. But, having inflation devalues the currency over time. Inflation slowly lowers the buying power of the currency making everyday items cost more to purchase.
What this means is, to buy $100 of goods in 1920 would now cost $1,218.58.
This is what Hedge Funds fight for the rich!
This of course is something you can take advantage of! By using Gold Ratios, you can see when the currency and the overall stock market is inflated. When this happens, the price of gold is cheap in comparison creating a good buying opportunity.
Then of course, because we live in a cyclical society that naturally balances itself out we end up with a recession or a contraction of the economy which deflates the economy balancing prices slightly.
During financially troubling times Gold has outperformed the overall stock market for decades.
When the economy starts balancing itself, Gold increases in value and normally "overcorrects" somewhat. This provides you a perfect time to take profits and return to the stock market which is now "undervalued" to Gold.
Learning to recognize when Gold is cheap can lead you to returns that few people take advantage of.
How To Know When Gold Is Cheap!
Because the price of gold fluctuates and hedges (protects) against inflation using a dollar value to determine the true value of Gold is extremely difficult.
But there are easier ways to evaluate when the price of Gold or the Stock Market is over or undervalued through ratios, Gold Ratios to be exact.
Gold ratios are the number of ounces of gold required to purchase said indices or other assets.
For example, The Price of the DOW on Jan 4 2021 was $30,627.47 while the price of gold was $1944.28. If you divide the DOW by the price of gold you will get the DOW/Gold Ratio. 
On Jan 4 2021 the Dow to Gold Ratio was 15.75.
It would take 15.75 ounces of Gold to purchase one share of the Dow. On any single day, it won't show a picture big enough to evaluate the markets but, when you view years, things become a bit clearer.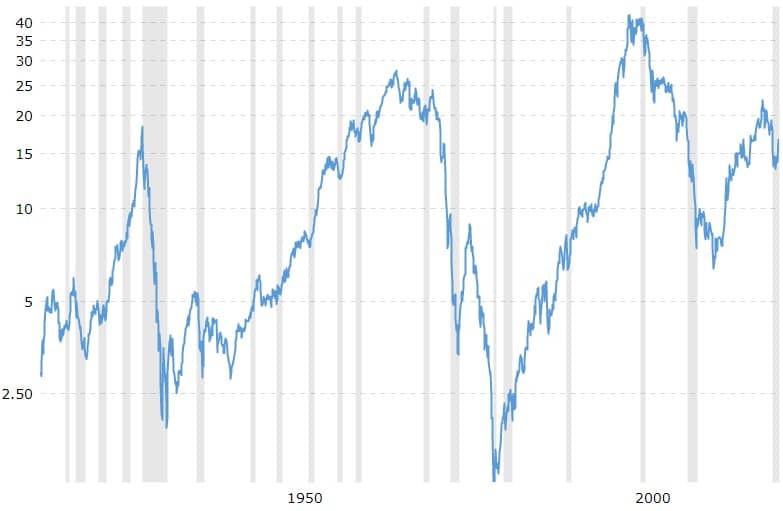 In this picture, you can clearly see how the ratio of Gold and the Dow (which is a good indicator of market valuation) fluctuate. This cyclical back and forth from overvalued to undervalued is what you can take advantage of.
When the ratio of the Dow and Gold is high the stock market is over-valued and Gold is a better investment. 
When the Ratio is low the markets are becoming equal and it is time to sell Gold and invest in the market.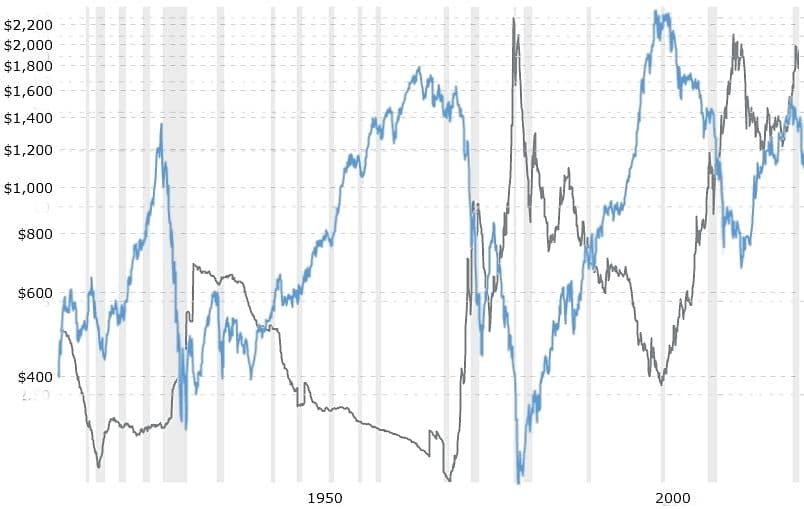 If you look at the historic price of Gold overlaid on the Dow/Gold Ratio, you can see an opposite correlation based on the value of Gold.
This confirms that as the ratio increases you have a much higher statistical advantage in making more than 10% interest by investing with the cyclical markets!
Buy low and sell high, that's the name of the game. With the help of ratios like the Dow/Gold ratio, you will know when the overall value of stocks or Gold is under or overvalued.
High Growth Stocks
High Growth Stocks are stocks that are expected to grow at a significantly higher rate than the overall economy. Generally, they don't pay dividends and favor reinvesting their profits back into the company to increase the overall growth.
They are also some of the most advantageous investments you can make. These are potentially market-changing companies that have an impressive growth rate and high returns.
When a business is growing at an astonishing rate it attracts other investors as well as profit. The more profit and investors a company generates the higher the stock price. This is what you want to take advantage of.
This rapid growth isn't all happiness though. High growth companies are usually newer, higher risk but may have a business or service that can change entire industries.
An example of a high growth, industry-changing company is Tesla. Tesla made an astonishing 740+% gain in 2020! The green energy giant exploded the auto industry and it didn't stop there! Elon Musk (the owner of Tesla) has changed the way the auto industry will operate and grow for the foreseeable future.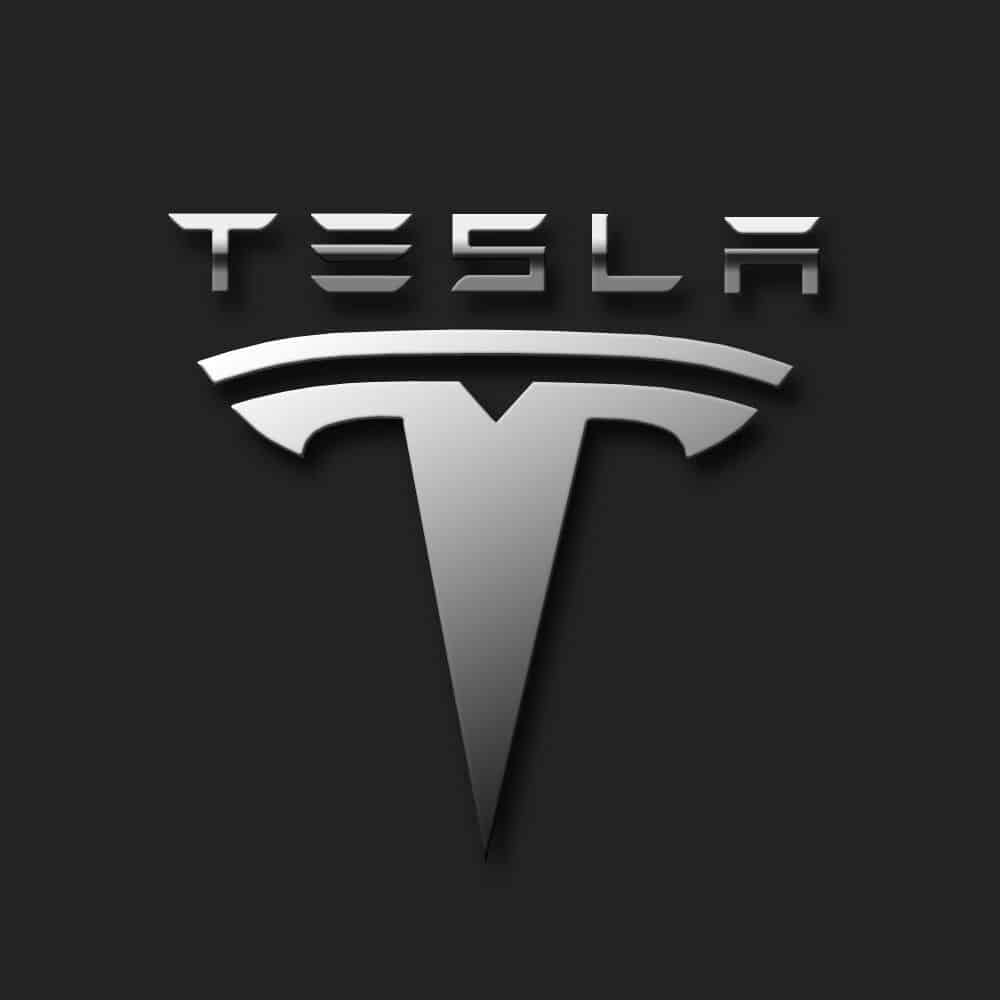 Another market-changing company was Netflix which change how the world views shows and movies extremely fast!
Amazon was a market-changing company revolutionizing how people buy everything from toilet paper to vehicles.
Identifying High Growth Stocks is all about understanding the business and the future prospects of the business itself. Then, you will actually need to confirm that the company is growing its revenues and services.
This can be done by starting with the Financial Reports. Every publically traded business is required to disclose detailed financial reports regularly.
You can get the Beginners Guide To Analyzing Financial Statements which will have you ready to find the best investments possible fast and effectively!
This also takes your hand and walks you through the financial reports of several businesses that we all know like Starbucks and guides you in such a way that you will fully understand what's happening in the business!
Make The Money You Deserve!
You have the power to become the greatest investor of all time! It's not about fancy degrees or lucky breaks. It's about making educated choices on how to invest your money with a plan for the future.
You have what it takes to make more than 10% returns you just need to take the first step. Start a business like a Zazzle store or a Blog with Bluehost for CHEAP and use the income to further your net worth!
Pay attention to the markets and diversify your portfolio with income-producing Assets like Real Estate or High Growth Stocks.
Change the way you look at investing and change your life today!